Journal #7 – The Music, Launcher, & More
5 October 2023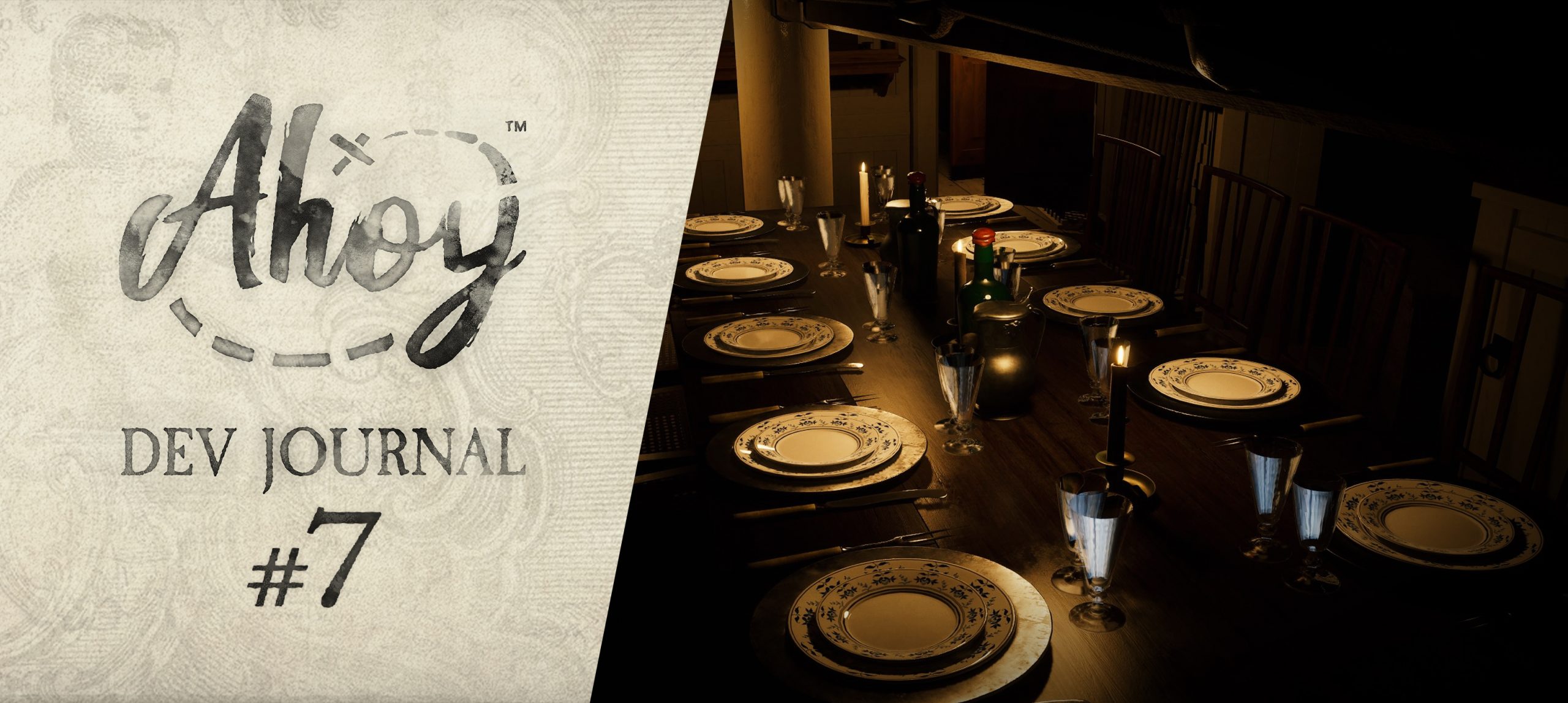 Each month we take a moment to talk with you about the development process and progress from the past month, while also highlighting contributions from the Ahoy community.
This month we are continuing our new video format, as well as some other progress towards the Port Royal Experience and beyond!
Behind the Music of Veloce
Our talented composer duo, Jens Blankenberg and Nicolas Wohlleben, are taking us on a musical journey. In this month's video, they dive deep into the art of composing the music for Veloce, the first ship to get a showcase video which we shared last month.
You'll get a behind-the-scenes look at the creative process and the magic that goes into crafting the perfect melodies to accompany your adventures on the high seas. Don't forget to subscribe to our YouTube channel, there is much more like this on the way!
Ahoy Launcher Progress – Your Gateway to Port Royal
We know you've been eagerly awaiting the release of the Port Royal Experience, and we're making significant strides in that direction. One key area of this effort is in developing the method by which you'll access the experience. Our Ahoy Launcher is nearing completion, and it will be your portal to access the Port Royal Experience as soon as it's ready.
The Ahoy Launcher represents an effort to provide simplified access to the project's early releases without having to work with Steam's complex product code system, and it also allows us to establish our own ability to sell Ahoy ourselves (in addition to other platforms) towards it's release.
Platforms like Steam and Epic Games Store charge a fee (as high as 30%!) for the privilege, and so for those who are happy to purchase and play Ahoy independently of these services, it allows more of the revenue to stay with Capstan. Overall, it's a sensible business decision for us to provide this as an option for players.
More Decoration – 'Phoebus' (HMS Pandora)
Our shipwright and master town planner, Loïc Derrien, has been moved on from Nemesis and is now hard at work enhancing the interior of 'Phoebus,' (HMS Pandora). The level of detail and craftsmanship that Loïc brings to the ship's interior is truly awe-inspiring, and it is only even more so when considering a ship of this size.
Phoebus is currently the largest ship in the Ahoy fleet, and will act as our initial test of larger, more complex ships before considering the creation of any even larger ones.
While an increased ship size introduces the expected complexity of additional guns, AI crew and players – another consideration is the amount of additional objects required to fill her interiors to the same level of detail as we've come to expect.
We'll return to progress on Phoebus in the near future!
Funding Applications
While we're sailing full steam ahead, we need your continued support to keep the wind in our sails. We're exploring various avenues to secure the resources needed to bring you the Ahoy experience we've envisioned. While we greatly appreciate everyone supporting us via Patreon, the past few weeks have seen a significant effort placed into applying for games industry and heritage grant funding.
We believe that Ahoy represents a great cross-over between a digital museum and an entertaining game experience, and so with this in mind we're exploring other ways to generate funding for the project, both to help keep the lights on, but also to allow us to progress at an increased rate in the future.
As always, we appreciate your engagement and enthusiasm for Ahoy. We will continue towards developing our vision for Ahoy, regardless of the outcome of these funding applications.
As always, please join in with the discussion about this month's update on the Discord server as well!
Until next time, good day!
Join The Discussion!
Our Journal updates are often discussed at length in the official Ahoy Discord server. Whether you have questions about the topics covered in this update, or you would like to leave your own feedback or suggestions, please join our Discord server to discuss!
Join the Discord